Jewellery for LRP / Cosplay / Gaming
Posted on
Sometimes a LRP / LARP (Live-Action Role Play) outfit or costume just needs a... little more. You've got the right shoes, clothes, make-up and hair but you need accessories as well. What would Sailor Moon cosplay be without your accessories? I'm going to give my top tips for making LRP jewellery or, if you don't have the time, getting it commissioned.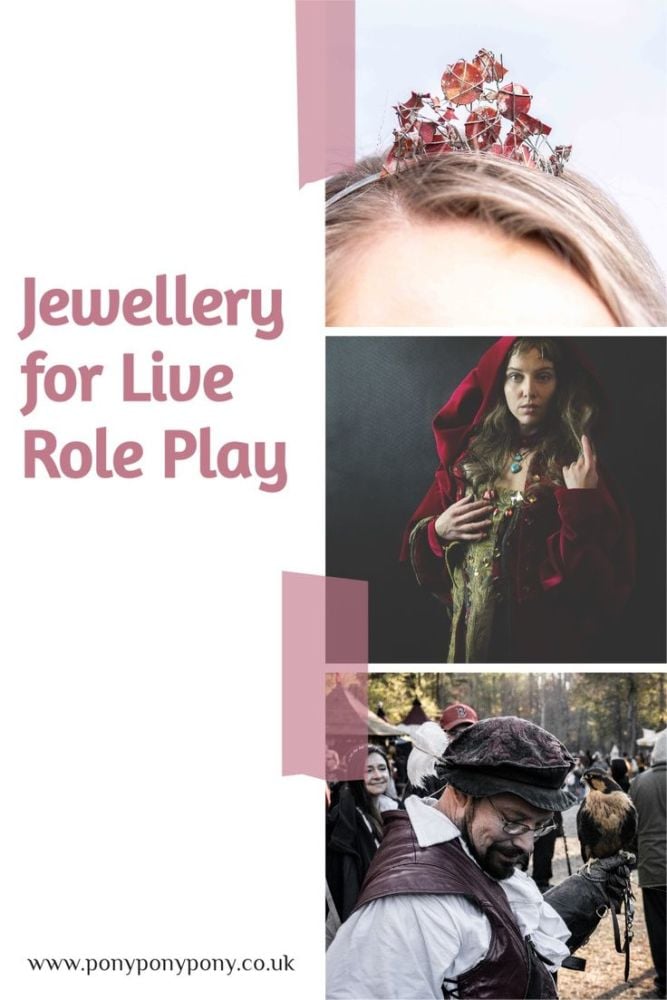 Make it multi-functional
This is especially important for one-off LRPs, or cosplay you just won't do again. You don't want to put all the effort into a piece you'll never wear again. And there's only so many occasions when you can get away with wearing a cyberpunk headset.

I created a cyberpunk headset that had some glowing wires which were eyelash glued to my neck. I could take off the wire and I used the "ports" on either ends as connections for S clasps on a necklace turning the headset into a large pendant.
Get as much use as you can out of anything you make and think about how a change of colour / additional gems or decorations can completely change the look.

Make it durable and practical
If you do the living-in-a-field-for-three-days kind of LRP, you don't want something that will easily scratch, bend, or lose pieces. Admittedly, you wouldn't want this in any setting, but it's particularly important if you're going to have to transport your jewellery about with swords or tents. Or if you're at a super busy con where you will get jostled.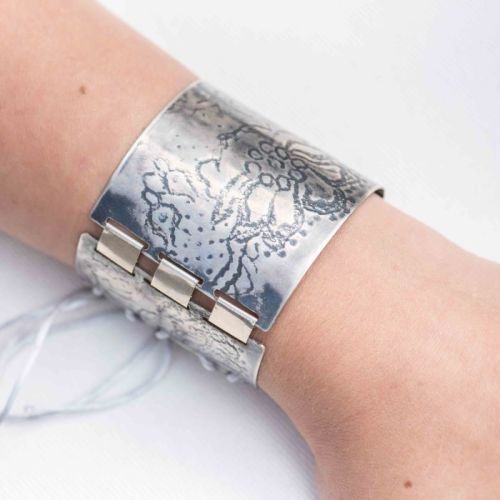 This is a cuff I made for my oracle. It fitted her personality and function; she was a protective healer as well as a warrior who appreciated nature. The cuff is in three pieces, and held in place with corset style cord. It's quick to put on and stays in place. No lose pieces to "ping" off and thick enough to last.
You may want to substitute the ideal with something more practical. Opals are very easy to scratch and anything with a fine clasp or chain could break. Generally, something with the right sort of shape will be good enough, and save you ruining your hard work.
Make sure it fits the theme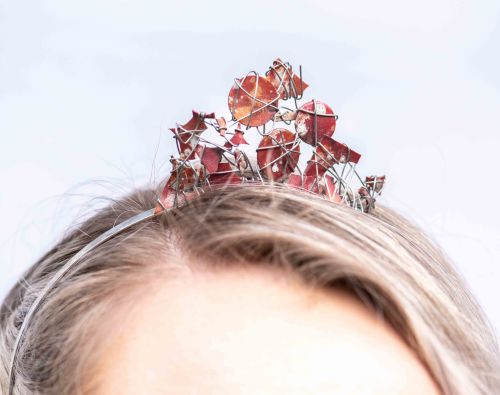 This tiara was made for a Venusian princess. When I think of Venus, I think of fire and acid. So I created a tiara that was destroyed by the atmosphere and was reconstructed. Check out the colours in this.
Doing some research online can give you great ideas. Don't just look for LRPs, though. Themed photo shoots or fan art for the genre can give you some great ideas. You may want to avoid tropes, you can do cyberpunk without hairfalls, for example, but some ideas are popular because they look great. Look at the colours typically used in the settings – are things shiny, dull, bright, pastel... It's fine to go in a different direction as long as it looks like it could fit. This particularly applies if you character is a rebel and wouldn't directly conform. Also consider the budget your character would have. It's quite possible that they would have to improvise. And consider the history of the setting. If it's set in the near future, would current jewellery be delightfully retro?
Don't spend money where you don't have to
It can be more important to give a general impression than to be entirely authentic (unless it's historical reconstruction where it would really matter). No one is expecting you to have massive real diamonds for a LRP. Consider cubic zircons to reduce the budget a bit. Garnets can look far more red than rubies (they tend to be a bit pink) but will be considerable cheaper. Or, if you are on a lower budget or need something really blingy, you can get jewel effects with resin. You may be able to use aluminium in the place of silver, which will have the added bonus that it's light and easy to stamp designs into.
The tiara again. I knew this wouldn't get a huge amount of use so rather than using silver wire as I usually would, I switched to steel binding wire. Did it matter? Not for this piece. Cosplay and LRPing should be for everyone, whatever your budget.
Have you ever made any great cosplay or LRP jewellery or accessories? Let me know in the comments. :)